This post first appeared on Okayafrica
 Photo by Rosie Collyer

'Aisha: Boko Haram Huntress' Is the Story of a Fearless Female Warrior Fighting Extremism in Northern Nigeria
We speak to Nigerian journalist and director, Rosie Collyer, about documenting the personal and professional life of Aisha, the woman leading the fight against Boko Haram in northeast Nigeria.
Throughout history, African women have remained on the frontlines—fighting colonialism, racism, sexism, terrorism and the long list of remaining isms face to face. This legacy, passed down from revolutionaries like Queen Amina, Funmilayo Ransome-Kuti and Winnie Mandela, lives on today in women like Aisha "the Queen Hunter" who, as one of the few women in the Nigerian army, fights Boko Haram on the daily as she works to free captives in the Sambisa Forest in northeast Nigeria, and liberate her community from the perils of extremism.
Her story is the focus of a recent Al Jazeera "Witness" documentary by Nigerian journalist and documentarian Rosie Collyer, who spent a year in the region following Aisha and the Nigerian army on missions, and thoughtfully immersing herself in Aisha's personal and professional life in order to highlight her incredible bravery and champion her story.
Aisha: Boko Haram Huntress, is a 25-minute journey that presents images which challenge much of what we've seen regarding the conflict in northern Nigeria, and introduces a powerful face to represent overcoming that struggle. Aisha's experience offers a glimpse into how women around the world navigate the many facets of their lives to bring about change and, in the process, challenge limiting definitions of womanhood.
Watch the full documentary below, and read our conversation with the film's creator below, where she discusses the process of crafting her first full-length documentary, her time in Magaduri, and what it meant for her to help tell Aisha's story.
This interview has been edited and condensed for clarity. 
Why did you decide to tell the story of Aisha?
I've been reporting on the conflict since the beginning really. I went to Magaduri for the first time in 2011. Early on in my two year sabbatical, I came into contact with the hunters and read an article about them in the Huffington Post. There was mention of a woman, and I knew I had to go back and find her. The moment I met Aisha and all of the hunters, I just knew they were simply the good people doing the right thing. That's why I had to tell that story to the world. It's also an alternative way of reporting on the conflict—usually you have to do a press visit with the military and they take you where they want you to see, but with the hunters I feel like I got to ground zero.
What was the day to day like filming on the ground in northeastern Nigeria?
Well, it was hot. I was used to living a kind of sparse life, living off the land. I was eating things like dried fruit, off of trees, and that sustains people for several hours. For me, I really needed water, that was the fundamental issue for me. I had around a liter a day, and it was around 35 or 40 degrees (celsius) when we were on that final mission. It was harsh, but definitely worth it, because that's how they live, and that's what, to me, made them very enigmatic. I couldn't just show up for the mission and then return to a comfortable hotel, I had to be on the ground with them. I hail from southern Nigeria so I can handle the heat, but I can't handle the dryness. The dryness and the dustiness were a nightmare for the camera. The toughest thing I faced while on the ground was the water issue.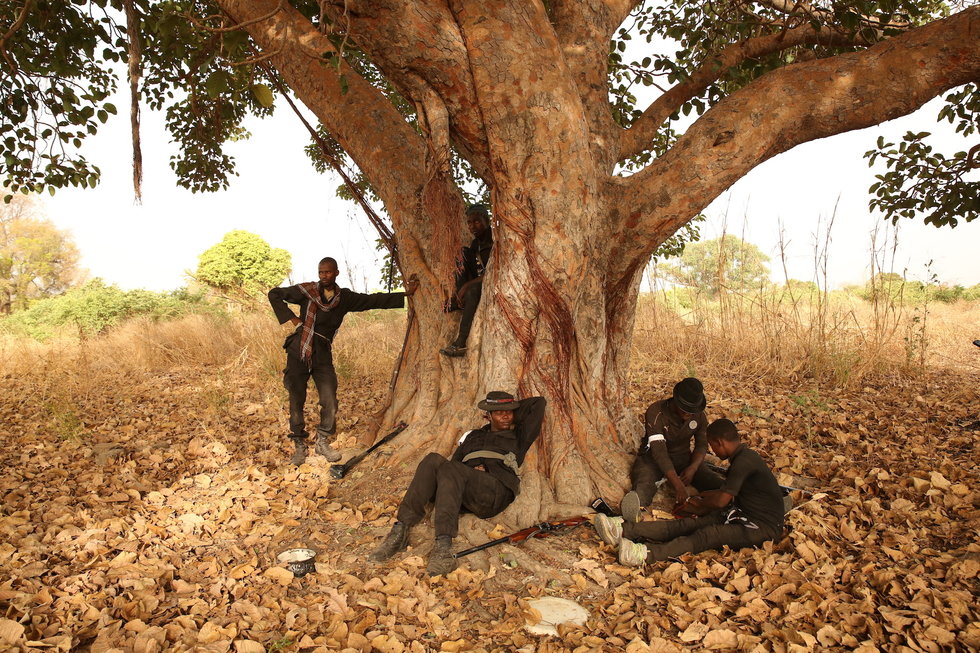 Hunters know Sambisa Forest better than anyone, so the military use them to track down insurgents who hide there.Photo by Rosie CollyerHow do you think your Nigerian background equipped you to tell this story from a unique perspective?
I grew up in the UK, and became quite interested in news and politics from around 12 or 13. I loved the BBC, that was pretty much what we had at the time, and there were fantastic television and radio shows, but alternately the stories done about Africa by some of my heroes, such as Kate Aide and the likes, were often full of misery. Then of course, Nigeria wasn't doing us any favors by having two of the most brutal dictators that Africa has ever seen. It was just one story after another coming out of Nigeria. After ten years, finishing university and then getting my Nigerian passport, that gave me more access. Nigeria actually proved much easier to work in then I anticipated, the kindness of strangers can't be overstated, it was like people just wanted me to be there. Even when terrible things were about to happen it was like an angel would appear and save the day.
With Aisha, I just thought this was an incredible story, it's probably my life's work—this documentary and the things that will spring from it. Aisha and I are connected. We're basically the same age, we're at the same stage in life. We were instantly connected. I love adventure, and she clearly does too, so we were very drawn to each other.
This is your very first documentary correct?
I've done news packages, some magazine series for BBC, and online series on women in Africa during my sabbatical. I took the sabbatical in an attempt to get deeper into telling stories, but also to learn how to film. I started off as a radio and print journalist, but I thought about how the world is becoming so visual, so I had to learn how to manage a camera. I had one anyway because of my love for photography, so I just went ahead and put it to use. Along the way, people would tell me that "I've got a natural eye," and that kind of helped, but I still had loads to learn. I've done shorter pieces, but this is the longest I've done so far in the two years that I've been working as a camera woman.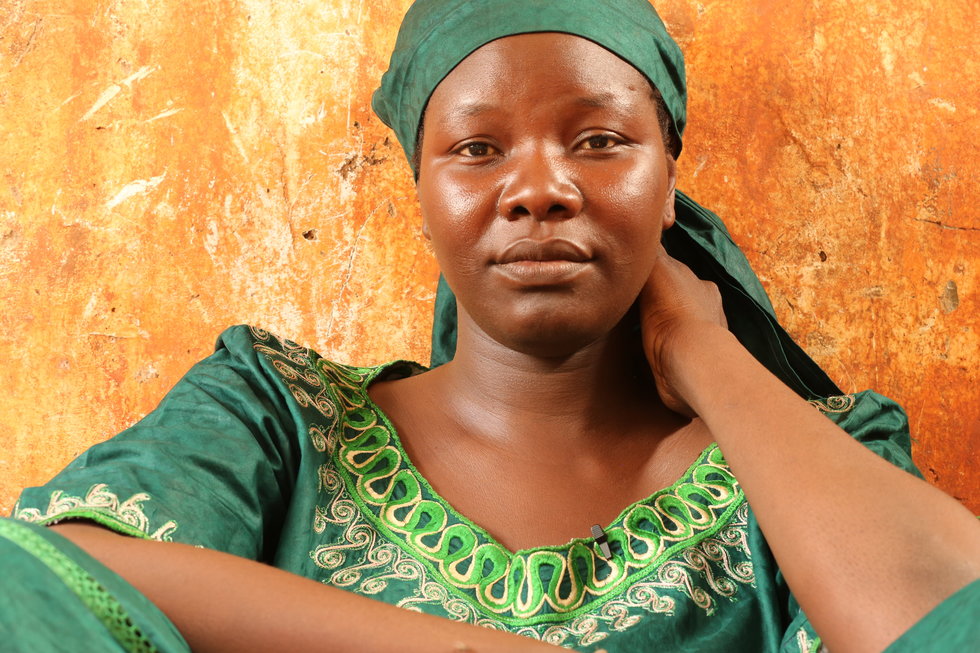 When Aisha is not out hunting Boko Haram fighters she worries aboutthe women and children who have been kidnapped by the group.Image by Rosie CollyerHistorically the role of women has been downplayed when it comes to revolutions and social movements, is this something you had in mind when choosing to tell Aisha's story?
Yes of course, but I feel like now is our time. Women, it's our time. Just at the start of the year, seeing all of the magazines on the newsstands, stories like "Women of the year," and "100 women make history" and all of those types of headlines, and obviously the #MeToo movement, I just feel like this is our time. And then with Black Panther, it feels like there is no more glass ceiling as far as I'm concerned. There are no more barriers for me being a black women filmmaker and director.
I love the scene in the film when Aisha comes back from her mission and her community rallies behind her and welcomes her back with so much pride and joy. How was it like witnessing that moment?
Well, after having downed like three liters of water in about ten seconds and going back to being a human being, I hopped on a motorcycle and got back to filming that scene as we pull in to the IDP camp. I was fully revitalized and sort of just expecting something anticlimactic, but then there was gunfire and cheering and I followed Aisha into the crowd with all these arms waving and wailing. It was just completely spontaneous. That moment, in my mind, summed up just how amazing Aisha is, and how she is really part of folklore in northern Nigeria. Everybody knows about her.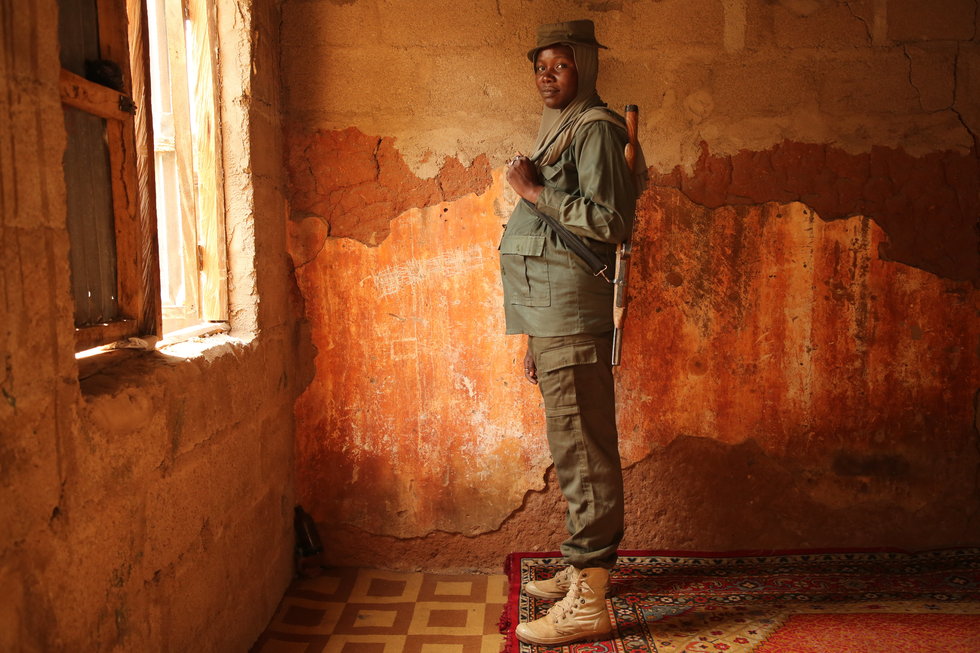 Aisha conceived her first child during the filming of the documentary.Photo by Rosie CollyerWe learn some amazing news towards the end of the film about Aisha being pregnant that really gives the documentary an air of hope. How important was it for you to maintain a thread of hope in the film, despite the heavy challenges being faced in the fight against Boko Haram?
That's what Al Jazeera's "Witness" series is all about. I've respected that about them for a long time. About 10 years, before I even started to think about getting into directing, they were on the top list of outlets to approach because they give so much freedom. It didn't matter that I was a first-time filmmaker, the executive producer, Reem Haddad, just held my hand throughout the entire process. The fact that Aisha's character came out, was really strong criteria for the series because that's the kinds of programs that they do.
But personally for me, I just love human interest stories, I love getting inside good people's minds. And there's more to come—I've shot all that I am going to shoot, and I've got some great material—but I have a 52-minute piece that we want to distribute in North America, that will have my voice over and give more context to a North American audience that may not be familiar with northern Nigeria and what's going on there. There's a lot more of Aisha, the person and this amazing arch of her being barren to having a baby. It's not quite over—I feel like I've told her story the way I wanted.