This post first appeared on Theroot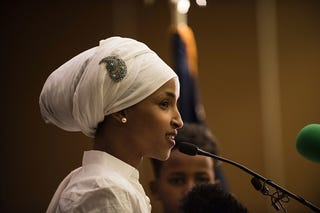 Ilhan Omar is a Somali-American politician who escaped from Somalia as a child, grew up in a Kenyan refugee camp and later immigrated to Minnesota.
Years after immigrating, she became the nation's first and only Somali-American lawmaker when she won a seat in the Minnesota House of Representatives. Now she is ready to become the first Somali-American member of Congress.
Aside from the hate she receives, she has also gained a lot of support, especially from other minorities, because of her commitment to public service and to hopefully serve as a voice to fight against President Donald Trump's travel ban.
"My success is not only for me but for every Somali, Muslim and minority group, particularly the young girls in the Dadaab refugee camp, where I lived before coming to the U.S.," Omar told the Daily Nation.
The withdrawal of Democratic Rep. Keith Ellison, the first Muslim elected to the U.S. Congress, from seeking a re-election bid was what prompted Omar to run. She is confident in winning, and on Aug. 14, an election will take place to choose the Democratic Party's nominee for the seat.
"I have proven myself to be someone who shows up, takes on the hard fight and delivers, and I am ready to do that for the people of the 5th Congressional District," Omar said.
Whether or not Omar wins, she is continuing to break barriers and remain a role model for women and people of color.